Las Piñas gives 100 e-Trikes to Toda
Las Piñas City Mayor Mel Aguilar, represented by her daughter April Aguilar, has turned over 100 electronic tricycle (e-trike) units to select tricycle drivers and operators association aimed to provide livelihood assistance and reduce pollution.
The beneficiaries are members of seven TODA plying the routes within public elementary, senior high school and the city-run Dr. Filemon C. Aguilar Information Technology Training Institute.
Mayor Aguilar encouraged the drivers to take advantage of the opportunity of owning a brand new vehicle for free as their source of livelihood that would also care for the environment.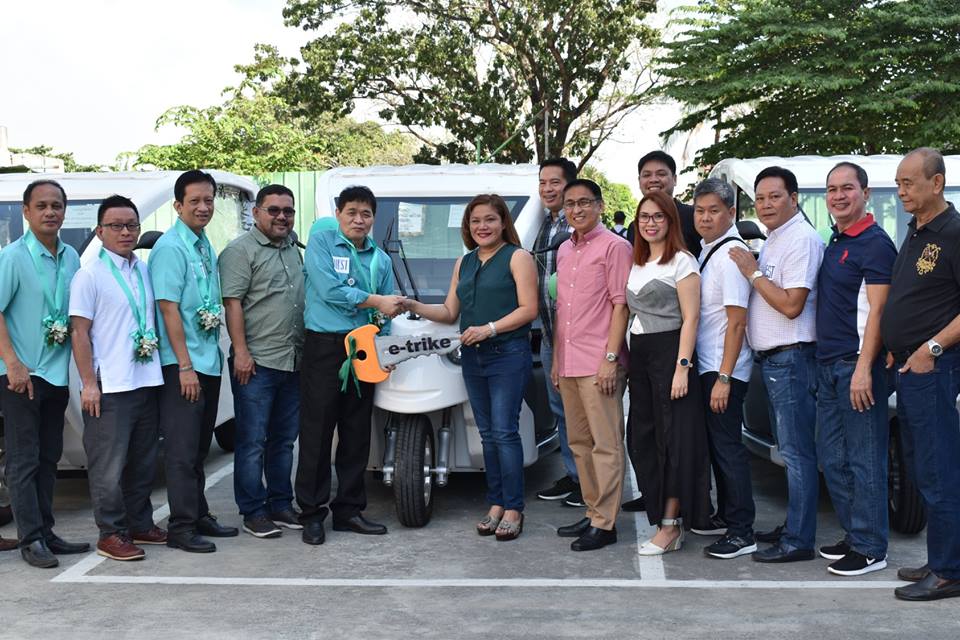 April Aguilar (sixth from left), representing Mayor Imelda 'Mel' Aguilar receives the key from Asst. Director Jesus Anunciacion (fifth from left) of the Energy Utilization Management Bureau of the Department of Energy during the ceremonial turnover of the 100 E-trikes to Las Piñas City. Present were (from left) Engineer Simon Leonor, Senior Supervising Science Research Specialist DOE; Takahiro Yamasaki, Business Development Manager BEMAC; Engr. Arnel Matthew Garcia, Supervising Science Research Specialist DOE; City Administrator Reynaldo Balagulan; Councilor Mark Anthony Santos; TRU Chief Ruben Ramos; Councilors Rubymar Ramos, Renan Riguera, Gerry Sangga, Buboy Dela Cruz, Steve Miranda and (at the back) Councilors Mark Anthony Santos and Pewee Aguilar.
The mayor said the city government will provide free charging stations in strategic areas along e-trike routes. Among the agreement between the city and TODA, the e-trike drivers must provide rides to all public school and DFCAITTI students along their route for free.
Former city councilor and chief of the Tricycle Regulatory Unit (TRU), Ruben Ramos who led the conduct of seminar for drivers, said they are giving priority to driver-operators with franchise to ensure smooth transition in the drop and replace scheme from their old tricycle unit to e-trike.
They also need to have a secured parking space for the e-trike. The program is given a three-month trial period to give beneficiaries ample time to adapt to the new scheme, he added. Under the program, the driver-beneficiary will be required to deposit P150 a day for six days per week as continuance fund, which they could withdraw for maintenance and battery replacement. 
The program is under the Energy Efficient Electric Vehicles Project (E-trike project) of the Department of Energy (DOE) and local government that encourages the transition from the petroleum to cleaner sources of energy.
The turnover ceremony on Tuesday was attended by representative of the Department of Energy (DOE), led by Energy Utilization Management Bureau Assistant Director Jesus Anunciacion, Engr. Arnel Mathew Garcia, supervising science research specialist, and Engr. Simon Leonor, senior supervising science research specialist.

Read from source :http://www.manilastandard.net/mobile/article/281648?fbclid=IwAR2qLXRXKvfRaLkzHBfTqqq7JZiueXjpHWNNWCk6DVT01VzvnxPwjzR1UfA